The New Ford Transit Custom Plug-in Hybrid - The new, state-of-the-art, plug-in hybrid electric (PHEV) Transit Custom is purpose-built to help you work more efficiently than ever.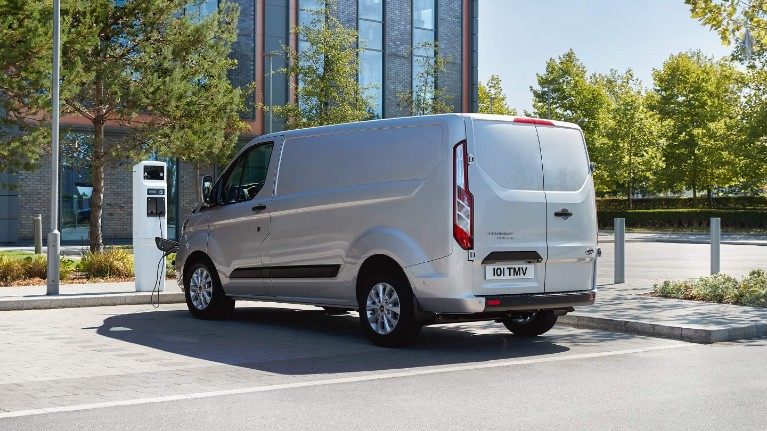 The future of commercial vehicles
The advanced electric powertrain can be charged at the mains and runs solely on electric power on shorter journeys. With support from the multi award-winning 1.0 litre EcoBoost engine, the van delivers outstanding efficiency, even on longer trips.
The Transit Custom Plug-In Hybrid van helps reduce local pollution, and delivers all the flexibility, capability and dependability you expect from a Ford Transit Custom.

Uncompromised capability
The New Transit Custom Plug-In Hybrid delivers reduced emissions without compromising any of the features that make Transit Custom the nation's favourite commercial vehicle. With up to six cubic metres of loadspace, the van can effortlessly carry standard 8' x 4' boards or three euro pallets flat on the floor.
And with the widest side load door-opening of any vehicle of its type, the New Transit Custom Plug-In Hybrid is perfectly suited to moving goods around the city as efficiently as possible.
Boasting a max. gross payload exceeding 1,000kg, the Transit Custom Plug-In Hybrid is still capable of carrying heavy loads.
Go further for less

Fully charged, the New Transit Custom Plug-In Hybrid's can take you more than 30 miles (48kilometres) using the electric motor alone. Ideal on those short trips in the city that usually resultin low efficiency and more money spent on fuel.

On longer journeys, the 1.0 litre EcoBoost engine helps to extend the van's range to over 310 miles (500 kilometres) – working with regenerative braking to recharge the battery. And once sufficiently charged, you can switch back to electric only, helping you save money and reduce pollution.